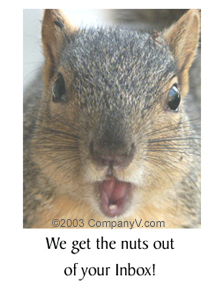 DeSpaminator
A powerful integrated application that recognizes that bandwidth is more costly than processing.
DeSpaminator cleans more than spam - it checks for virus and other file attachments or embedded objects that are either dangerous or wasteful of bandwidth. Read more about our DeSpaminator and WordPress Services: cvblog.companyv.com/ The CompanyV Wordpress Blog & Demo Site
Webmail
Check your mail on a secure server from any remote location with internet connectivity.
DeSpaminator HELP
Help files are on every page of DeSpaminator explaining what to expect when you enable, disable or change scores. We have also included troubleshooting information, frequently asked questions and a glossary of terms.
Contact us for a consultation!
310-388-8123 Ext 1
Need More than FTP?
We have wonderful solutions for File Sharing!
Check out Our Secure File Share Hosted WebDav