When "Off-the-shelf" isn't good enough!
We clear the air on Cloud services. Place your valuable data in a safe place not a vague place like a public cloud!
Websites - WordPress Design support and Hosting - Virtual Private Servers - VMs - Email - Backups - Tech Support - all things Internet!
Looking for a higher class email? with Spam & Virus Filtering plus Webmail and customer support?
Our servers detect and remove virus and spam from ever making it to your inbox!
Whatever your needs - if it involves Internet services - give us a call!
Hosted email - websites designed implemented and hosted - we can do that! Backups or Secure Shares or Virtual Private servers (VPS) - we can do that too!
Our spam solution can be configured to work with Exchange and will save you bandwidth, storage and backup space.
---
QUICK HELP FOR CUSTOMERS
If CompanyV servers are delivering a failure message to incoming mail you can send an email to someone who is unable to email you - ask them to copy the entire delivery failure message and fill out the on this page:
http://www.companyv.com/support/request/
. That link should also be in the delivery failure message they received.
CompanyV email account set-up instructions.
These instruction only apply to CompanyV Email customers. You would have received username, passwords plus incoming and outgoing mail server information from us by phone, fax, text or through another email account.
More information not required for set-up: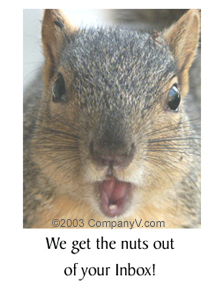 DeSpaminator
Email - Like it's supposed to be
Does your service provider answer the phone and your questions?
We do!
1 805 322-1007 ext 1
1 310 388-8123 ext 1
CompanyV.com Corp
1237 S VICTORIA AVE #444
OXNARD, CA 93035